Measurement, recording, telemetry, HUD for RC modelers
Tired of virtual worlds ? Enjoy reality
Home
Get full control of your flight with the unique Xerivision HUD system:
With realtime display of barometric altitude, Air speed , GPS distance....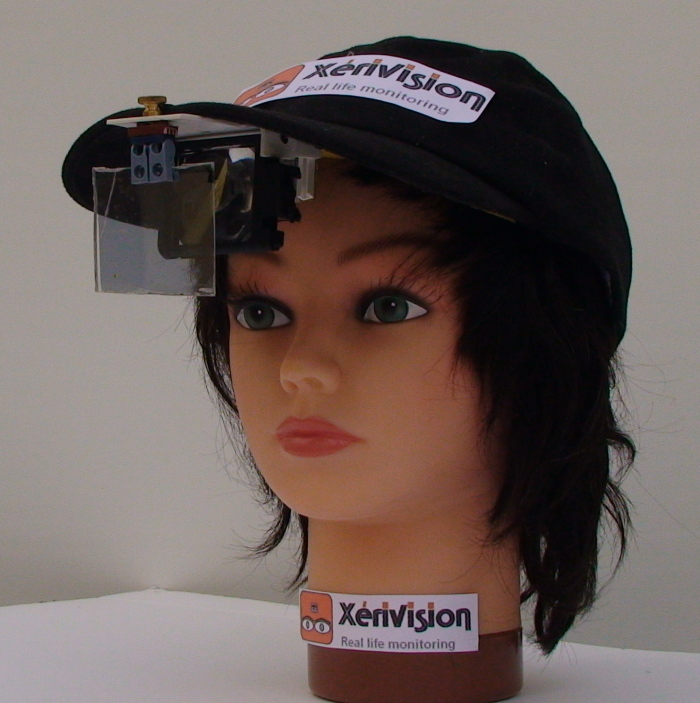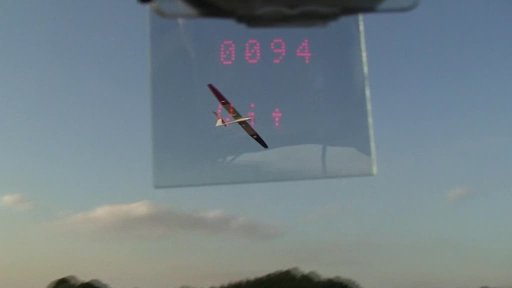 See our video on Youtube












NEW
Ukrainian F3J competitors are now equiped wit Max 1025 traction transducer to optimise their launch phases according to Francesco Meschia methods. No doubts that, at the next F3J world championship, the level will be increased and the competition will be harsh.
Francesco Meschia complements his latest publication about F3B/F3J launch and unveils his tips to be on the safe side for efficient measurements.
---
Learn from Francesco Meschia's paper how to improve by 10% the launch altitude of your F3J model thanks to measurement of critical parameters.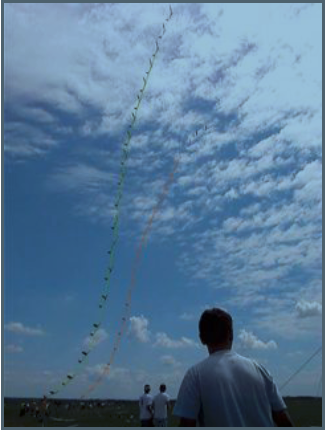 In the new issue
of the prestigeous Italian publication "Settimo Cielo" Francesco provides a description of the process he has developed to optimise the key parameters governing the launch phase of an F3J model. Francesco drafted another expanded version of his study for us. You can find it here.
These parameters were identified through a detailed theoretical analysis and then a rigourous experimental protocol he established. One of the prime key parameters continuously measured in flight during the winch launch phase is the pulling force of the wire on the model. This measurement is provided by a Xerivision Max 1025 traction transducer.
In addition to provide repetable and accurate measurements, the transducer has proven to be sturdy enough to resist to several tenths launches.



---
The lynx HUD has been connected to an Frsky 2.4GHz telemetry module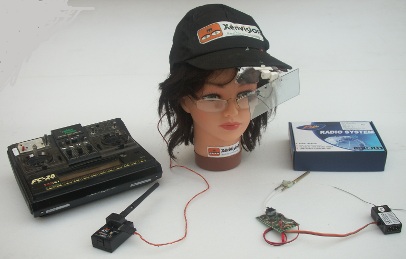 Frsky offers a line of 2.4GHz emitter modules for Futaba andJR(TM) RC systems and the corresponding receivers. The "Two ways modules" provide a downlink from the onboard receiver back to the emitter. A Xerus airborne data management system has been interfaced with the receiver and the measurements are forwarded to the ground. The pilot can thus display in realtime altitude and airspeed (and if a GPS module is added, the distance) of his model without loosing it out of sight.
More details here
.
The Frsky representative is
Modelpascher
shop.
---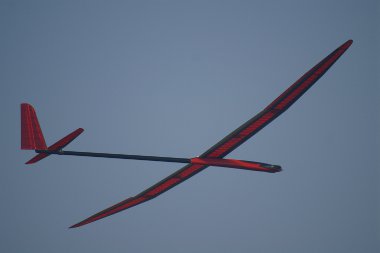 Genoma:
This is the latest creation from Marc Pujol : 3.65 m of CFK & Kevlar. It allies two opposites qualities: ultralight weight (1.9kg including 1 Kw propulsion) and full air penetration. It was designed using
XFLR5
, constructed by a highly experienced mates and performance sere measured using Xerision system. A complete dossier is provided here. The distribution comes in two files: one Pdf for the design process and a 32 Mbyte heavy zip that provides all the details of construction and fly. It includes tips and tricks, measurement results as well.
Upload here
---
A new airflow angle transducer Mle 1401:
The aerodynamic performances of your competition airplane is constantly affected by the angle of attack, either yaw or pitch. We have developed the new
Max1401 transducer
in order to allow the model designers to investigate in this domain and the model's pilot equiped with our HUD telemetry system to improve his skills and gain a competitive advantage.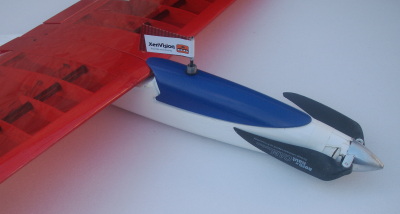 See the
Marc Pujol's paper
investigating the yaw behaviour of V tailed vs X tailed gliders, assessing his conclusion with Max 1401 angle transducer measurements.
Read our
Application Note describing the concept of use of this transducer in connection with an HUD in our
Application page
See the characteristics in our
transducer products page
---
Record multiple transducers and with Flight Test Studio merge the data to access a subtle understanding of your flights: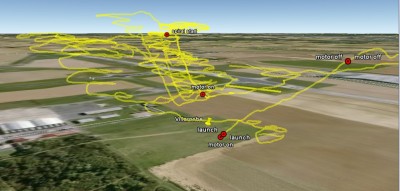 ---
Your airfield is close to a built-up area, your neighbours are clamouring in protest.
Don't worry, we can provide the solution.
With the new 1.26 Xerus software release and our GPS receiver module, a pilot can continuously monitor how far his plane has travelled from
its starting point. He will be able to observe all "keep out" zones and avoid complaints from the neighbours about over-flying or aircraft noise .
Jet pilots, fans of models with big engines and club managers no longer need fear having their airfield closed by the authorities.
In addition, you will always know your plane's altitude and airspeed.


---



We have developed for your pleasure a comprehensive line of original products to improve your RC sports practice

For models research and improvement
For pilots' skills progress
For more fun