New: The use of the Xerivision HUD with Frsky 2.4 GHz RC modules
Frsky:
Frsky is a Chinesee company offers to the markets high grade 2.4 GHz emitters modules and receivers suitable for Futaba(TM) and Multiplex(TM) systems.
The concept:
Aircraft data are measured and calculated onboard by a Xerus 5000 Data Management System and fed into the 2.4GHz Frsky receiver. The return data link to the Frsky module plugged in a Futaba (TM) or a JR(TM) emitter , then displayed on the HUD in your field of view. You can continuously follow the altitude, the airspeed and with the optionnal GPS the distance of your model without loosing any capability of fine piloting.
More details here: Xerivision-Frsky architecture
Contact us
for more information
Lynx HUD (patented) "It is easier to find the switch when the light is on" (Marcel Proust)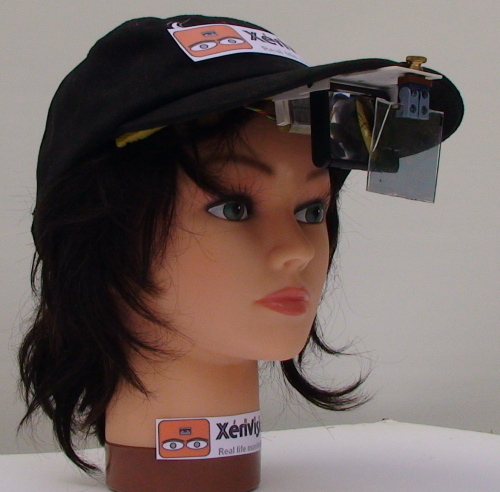 The goal:
Pilot and sense in real time the reactions of the model to your orders. Install a positive feed back between you and the commanded mobile to be more precise and improve your piloting skills.
"Pilot" means looking at your model without any obstacle or disturbance with full confort.. No need to accomodate
"Sense" means having the full display of important movement parameters either as result of your commands or as result of the response of the mobile to the environement.
The concept:
A convenient, affordable head up display integrated in a tissue cap.
Aircraft data are gathered onboard by a Xerus Data Acqusisition System and sent through a 433MHz data link, then displied on the HUD in your field of view.

The challenges:
Comfort: the image is projected in your field of view in such a way that it is superimposed to the scene your are looking at without the need for you to accomodate. You can place the display at your covenience at any place in your field of view.
Sunlight readable:
the display is always present even against the brightest white clouds
Specifications

Lynx RC:
Displays of 2 rows of 4 semi graphic characters
Displays one channel of data at a time transmitted by a remote Xérus module
transmission link 433 MHz ISM band
Power supply by 1 Li-ion cell
Displayed data, switched from your RC emitter:
From this list, pending appropriate hardware and sofware equipment of onboard Xerus:
- Altitude
- Air speed
- distance over longitude (from the starting point)
- Distance over latitude (from the startng point)
- skew
- rpm
- power plant current
-... more to come
Xerivision Lynx HUD is covered by patent.
In preparation:
Bluetooth(R) Lynx model
Lynx G graphics model

Top
Related Readings:
Photo gallery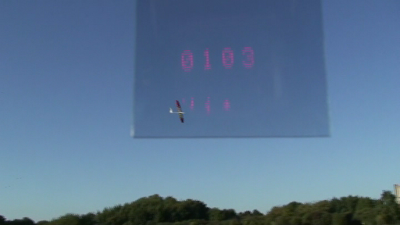 Air speed living display (10.3 m/s in decimeter)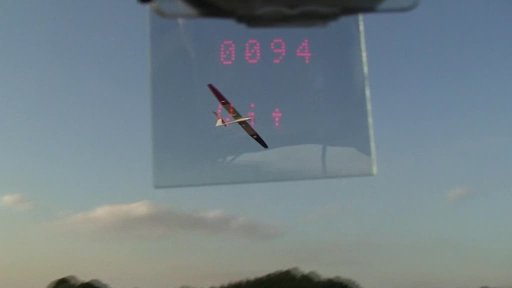 Air speed living display (9.4 m/s in decimeter)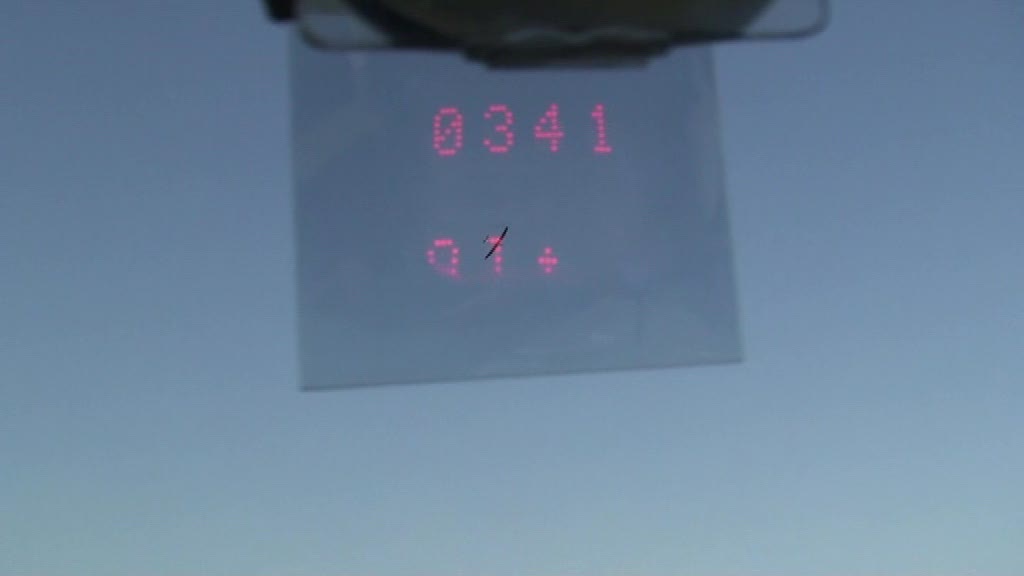 Altitude living display (34.1 meters high indecimeter)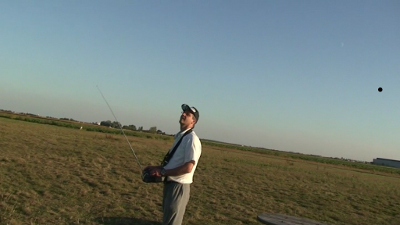 Convenient and comfortable use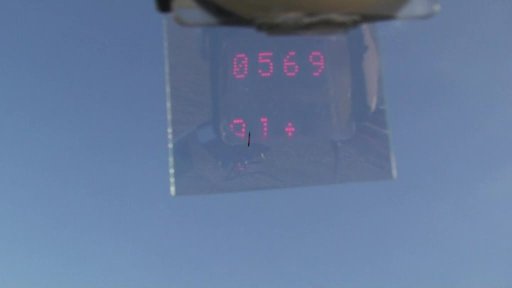 Altitude living display (56.9 meters high in decimeter)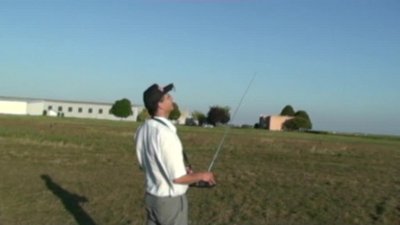 Easy piloting